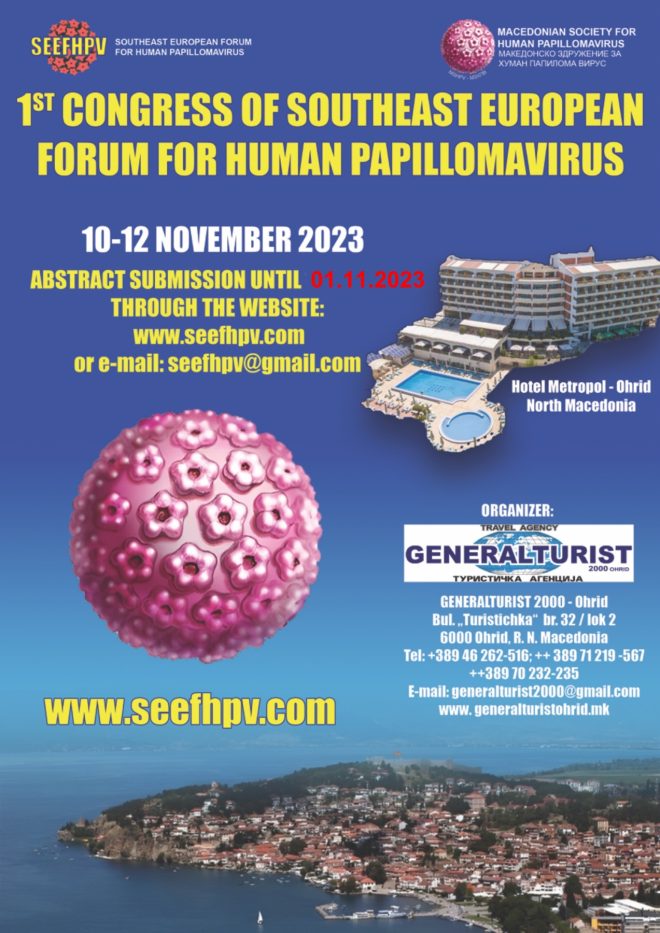 On behalf of the Southeast European Forum for HPV (SEEFHPV) and the Macedonian Society for HPV (MSHPV), we are honored to invite you to the First Congress of the Southeast European Forum for HPV, with a topic "HPV Infection and Associated Diseases". This congress will take place from November 10th to 12th, 2023, at Hotel Metropol in Ohrid, North Macedonia.
The topics that will be covered during the Congress include:
Epidemiology and Molecular Biology of HPV
Basic Immunology and Pathogenesis of HPV
Global Burden of HPV Infection and Associated Diseases
Prevention, Diagnosis, and Treatment of Cervical Cancer
Condylomata Acuminata/Diagnosis and Treatment
HPV and Head and Neck Cancers (HNC)
HPV Vaccines – Therapeutic and Prophylactic
Preventive Effects of Nutritional Supplements on HPV Infection
Psycho-Social Aspects of HPV Infection
ABSTRACT SUBMISSION UNTIL 01.11.2023
For more information about this event follow the link to the official website of the https://seefhpv.com/
Join us as we bring together the brightest minds in European medicine for an unforgettable educational experience.